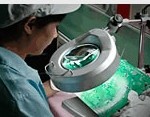 Tom Sharpe clearly recalls the first batch of "clone" semiconductors that turned up under the microscopes at his company's Sandy Hook, Conn., test facility three years ago. SMT Corp., where he is vice president, specializes in detecting counterfeit chips, and most of those it had detected before then had been poor-quality, previously used chips that had been re-marked to look like new or higher-performance components.
But these clone devices were very different. Newly manufactured with authentic-looking packaging and exterior markings, some of them even met the performance specifications of the parts they were meant to mimic. As it turned out, they were the first of a new generation of bogus chips that is proving far more difficult to distinguish from genuine parts.
"We're at war against these advanced counterfeits," says Sharpe. "Now that the counterfeiters have parts that are newly made, and that actually function, it's really changed the game of what we're up against."
Although it's difficult at times to tell who's winning or losing the battle, electronics suppliers continue to discover an increasing number and variety of clone chips in circulation. And that's fueling concern that potentially malfunctioning or malevolent counterfeit chips could be finding their way into mission-critical defense, aerospace and medical equipment. Sharpe, for one, is convinced that the electronics industry is already paying a heavy price – in lost sales, returns and warranty claims – for the growing problem of counterfeit chips. "The dollar-value impact in total has got to be into the many, many tens of billions of dollars collectively," he says.
A promising new approach
SMT, an independent stocking distributor that supplies components and peripherals to the commercial and defense industries, currently tests for counterfeit devices using a variety of techniques, ranging from X-rays and acoustic and electron microscope inspection to decapsulating suspect devices and slicing the chips inside into cross sections for analysis. These methods tend to be time consuming, however, and many of them are "destructive" processes that render the devices unusable.
Last year, SMT began helping Battelle, the Columbus, Ohio-based nonprofit research and development organization, to evaluate a promising new anti-counterfeiting technology that appears to solve both of those problems. The Battelle Barricade™ system, which has been under development in Columbus for the past two years, allows users to simply plug a chip into a socket and authenticate it in seconds, while leaving the part completely unharmed.
Battelle's technology is based on the fact that electronic components have unique electrical characteristics that vary slightly depending on everything from the device's production date and thermal profile, to the specific materials and manufacturing process used in its fabrication. These waveforms can be detected with an oscilloscope and represented visually as a series of waveforms.
The Barricade authentication process starts by analyzing the power-consumption waveforms of several authentic chips to develop a unique electronic "fingerprint" for each class of device. Additional chips can then be quickly evaluated and categorized as genuine or counterfeit using a classification algorithm that compares them to the authentic chips' fingerprint in about 30 different dimensions.
Stylianos Kaminaris, Battelle's director of cyber product development, says that one of the Barricade system's key strengths is its ability to detect patterns of electronic characteristics that larger groups of chips have in common. "Parts that have gone through the same manufacturing process, that have been subject to the same kinds of conditions, will cluster together," he says. Parts that lack that signature pattern, however, stand out like a sore thumb.
Battelle brought a prototype Barricade system to SMT's lab last year to see if it could tell the difference between counterfeit, clone and genuine manufacturers' parts in a series of blind tests. Kaminaris' team was pleasantly surprised when the system correctly identified 100 percent of the counterfeit and clone chips mixed with batches of genuine parts. In other tests, it was 95 percent successful in identifying which out of a group of genuine parts came from each of four different chipmakers.
"We've had very good success at identifying authentic chips from counterfeit clones. We've yet to miss on that," says Kaminaris. "That's given us a lot of confidence to further invest in the technology."
Preparing for commercialization
A team of about 10 researchers headed by Battelle's Cyber Technical Director Larry House has devoted the past year to scaling up and preparing the Barricade system for commercial use. Thus far it has only been tested on relatively simple parts, since the first-generation system was limited to devices with a maximum of 48 connector pins. Battelle has been revising the system's hardware and software, however, and expects to have a second-generation version ready in the next few weeks for further testing on more complex devices, including analog and programmable chips and microprocessors.
The Barricade system consists of a data acquisition box with interchangeable test sockets and a desktop or laptop PC that are located at the customer's test site. For added security, proprietary counterfeit analysis functions can be performed by a secure, remotely located server. Current prototypes require test chips to be inserted and removed by hand, but Kaminaris says the technology could easily adapt to an automated production line using a pick-and-place or reel system to feed chips through the inspection process.
Because Battelle is a non-profit research organization, it probably will not manufacture and sell the Barricade system by itself. It could create an affiliated company to commercialize the product, but it's more likely to license the technology to another entity that can help to further refine and deploy it. "We'll be engaging with likely licensees through the next 12 months," says Kaminaris, "and then we hope to actually get this in the hands of someone who's going to start using it."
Battelle representatives are already making the rounds of industry conferences to introduce the Barricade system and gauge the level of customer interest. Aerospace and defense appear to be promising markets, as do the medical and auto industries. "We see potential wherever you want to assure your supply chain, because you're building a high-reliability kind of device," says Kaminaris. He also thinks it could be "a real game-changer" for electronics manufacturers, distributors and semiconductor companies that decide to take an active role in mitigating counterfeit chips.
Battelle, which vowed in a March press release that the Barricade system will cost "dramatically" less than alternative counterfeit-detection methods, hasn't yet announced a price for its system. Sharpe, however, expects it to cost under $100,000 by the time it reaches the market. And that's significantly less than the $300,000-plus price he heard from Nokomis for one of its systems.
Meanwhile, Sharpe is eagerly looking forward to the arrival of Battelle's Barricade, which he's hoping will turn the tide in the war against counterfeit and clone chips. "I've seen a lot of so-called better mousetraps out there, but none of them has impressed me as much as this," he says. "It's head and shoulders above the other solutions."